Archive for November, 2005

Eye difficulties
Black Eye. This common eye injury, often resulting from a blow, usually is not serious and clears up by itself, but since the eye is very precious and may have been damaged by the blow, an examination by a competent physician is recommended when any doubt about the eye condition is encountered. A safe, immediate treatment for black eye is bed rest and application of an ice bag.
Foreign Bodies in the Eye. Particles that get into the eye are called foreign bodies. They usually cause sharp pain and an excessive flow of tears, as nature attempts to float the foreign body out of the eye. Most windswept dust particles are effectively handled in this manner without any more active therapy than a few winks and blinks. Foreign bodies that do not wash out freely with tears, invite rubbing, but it is best to confine any such action to gently stroking the closed eyelids toward the nose. If the particle still remains, a nurse or doctor should examine the eye for a possible injury. When "something in the eye" does not wash out freely, consider no other course but the doctor's recommendation. The best of intentions in rubbing the eye can unfortunately, turn insignificant eye injuries into serious ones.
Inflammation in the Eyes. Sties, pink eye and other eye inflammations usually caused by bacterial infection, are very common, quite painful and often considered to be contagious. The ever present tear is probably the best eye wash and germ killer in the entire world for these situations, but self treatment still causes much eye damage.
The best rule to follow in eye infection is to do nothing but close it and possibly apply mild heat until it clears up or the physician can see it. Modern drugs and methods of treating eye inflammation have changed considerably and should be considered preferable to home treatment.
Inflammation elsewhere in the body, as well as possible tumor growths, may reflect themselves by eye conditions. Pupils of unequal size may indicate neurological disease within the brain, requiring extensive study. Pupils which do not constrict in the presence of bright light, nor expand in the darkness may be considered a possible indication of systemic disease of the entire body, effecting the eye in this manner. Syphilis, an infectious systemic disease, has long been known to affect the eye pupils in this manner. Such unusual findings should prompt the individual to present himself to his physician for examination and possible treatment.

Examination of the Eyes
Examine the eye in a mirror with the aid of a strong light. For visual acuity, pin the eye chart on a wall at eye level, and stand back a measured twenty feet.


Fig. 6. The eyes are called the windows of the soul. Our most valuable physical possession, they are much abused and can develop many severe diseases. Eye care is extremely important.
1. Closely scrutinize the inner and outer surfaces of the eyelid, the eyeball itself, and the clear surface of the cornea. Observe any particle, hair or other substance embedded anywhere as a foreign body in the eye.
2. Observe the clear cornea and white of the eye. There should be no redness, large blood vessels or milky growth
of tissue present. Presence of these findings may mean eye inflammation, or pterygium.
3. Note the pupils, both of equal size, become smaller in bright light and larger in dim light. Failure of such pupil action, or any unequalness of size, may mean infection or disease within the brain.
4. Fix the vision on a distant light, such as a street lamp, during the evening. The appearance of rings, visible around the light with a blurring of the light itself, may indicate glaucoma.
5. With the vision fixed on a lighted object, quickly close and open the eyelids several times. Continuous blurring or distortion of one particular portion of the eye field may indicate astigmatism.
6. At a distance of twenty feet from the eye chart, accurately measured, determine the lowest correctly read line for each eye with glasses off and on. The 20-20 line is considered perfect vision. Determine the smallest readable print on the hand chart of varying size print. Print size No. 1 is considered perfect.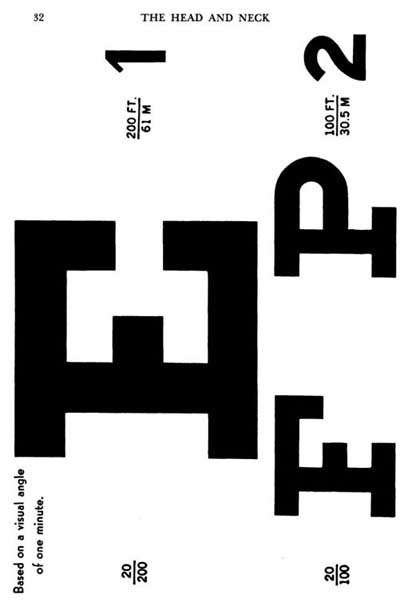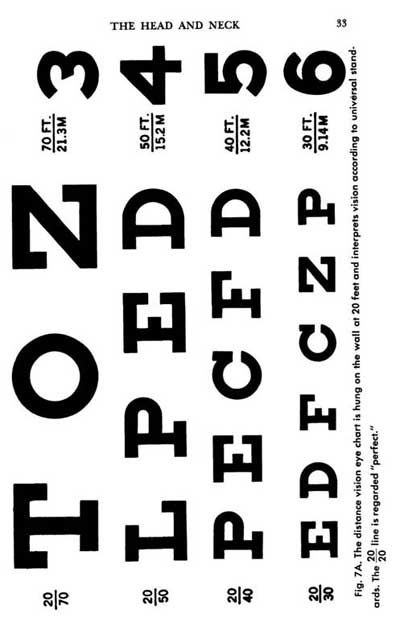 Examination of the Scalp
Stand under a bright light, before a close-up mirror and observe the hair and scalp closely.
1. Note that the hair is lightest where the scalp is thinnest, on top, in the temples, and just back of the very top. The normal scalp has 1,000 hairs per square inch. Baldness be gins from this number on down to no hairs at all.
2. Gently scratch the scalp between the hair shafts. A loosening of snowy skin scale from the scalp or under the finger nail, without doubt, means dandruff.
3. Fix the palm on top of the scalp and move it in all directions. It should be freely movable and entirely painless. A painful swelling on the scalp, especially in back, may mean boils or carbuncles.
Scalp difficulties
Common Baldness. More than ninety-six percent of all baldness is found in men. Hardly a disease, baldness nourishes a mil-lion-dollar-a-year business for checking, preventing or curing this malady.
Two interesting facts about baldness are known. 1. A strong inherited tendency influences hair growth, and most men can predict their hair life from their father's and grandfather's hair. 2. Male sex hormones are important in baldness because they stimulate scalp oil secretion, usually associated with loss of hair. We see also that the time of greatest hair loss occurs when the male sex hormones flow in the blood stream at the highest level, and if castration should occur before maturity, baldness would be rare. A bald man, therefore, can be comforted with the thought that the loss of his hair is proof of his virility.
Baldness as a Disease. Only about 4 percent of baldness results from disease. Scalp disease and high temperature from bodily disease are most frequently the cause of this baldness. Most of these disease types of baldness are only temporary and therefore, curable. The best-known and most often cured baldness is the patchy, moth-eaten type called alopecia-areata. This baldness difficulty always clears up regardless of the treatment.
Dandruff is a flaking off of dead skin. It is not serious, and appears to some degree in everyone. Further difficulty however, results when a lack of routine cleaning of the scalp, allows these small flakes to accumulate and form crusts that irritate the scalp, and cause it to itch. This condition with an over-supply of oil, dandruff and crusted lesions about the hair line is called seborr-hea. Prevention of seborrhea demands an effective routine scalp cleaning, for removing excess oil and crust accumulation, plus a diet regulation best prescribed by the physician or skin doctor.
Boils and Carbuncles. These infections usually occur on the neck, and occasionally the scalp. The neck is an ideal region for bacteria to establish infection, because collars and clothing so often erode this skin area and allow bacteria to enter under the skin surface to start boils. If bacteria from boils tunnel in several directions under the skin and start an accumulation of numerous small boils, a carbuncle is formed. This is often very difficult to cure whether in the neck or scalp.
Covering the infection with a clean bandage gives some protection against further infection but opening and draining a boil is usually necessary for complete recovery. Mother Nature herself often performs this operation by a heading and bursting process, but when pus accumulation is too deep, an incision and drainage may be necessary. Carbuncles, much more than boils, require a thorough incision and drainage operation of the many infected tunnels in the surrounding skin. Only a doctor should attempt to incise and drain so serious an infection.
Cure baldness with the help of our highly qualified physicians in hair transplant procedures and other hair loss treatments. You will definitely get great results!
Find the best hair transplant cost from a hair restoration surgeon.

Dizziness
Dizziness is a common difficulty after fifty. It may mean a faint or unsteady feeling, but usually means a sensation of motion in our surroundings and can be sensed either in daylight or total darkness.
Meniere's Syndrome, disease of the balancing mechanism within the ear, is the most common cause of dizziness. The inner ear is our main organ of balance, and tells us even in the dark, when we are going straight, turning, or falling. Our balance mechanism may be compared to a glass filled with water. When the glass, like the head, is tilted, the water stays horizontal with the earth's surface though not with the glass, and a reflex within the brain tells us we are not level. Without such a mechanism as this, it would be impossible for us to stand or walk.


Fig. 5. The balancing mechanism in the head is similar to water in a glass. Changes in fluid level are determined within the brain as changes of position.
Severe cases of Meniere's Syndrome, can last minutes, hours, weeks or days and may be accompanied by severe nausea and vomiting which force the sufferer to lie motionless in bed to prevent a recurrence of dizziness. Hardening of the Arteries, or arteriosclerosis of the blood vessels in the brain causes about one third of all dizziness. In this disease, blood intended for the brain and certain special nerves, is temporarily decreased because these arteries have too much arteriosclerotic "rust" in them, and the resulting temporary un-dersupply of blood to the brain produces dizziness.
Physiologic Dizziness commonly occurs when we stand up after sitting or lying. It is due to slower reflexes of age and can be explained as follows: in relaxed positions our blood pressure is at a low level, but in suddenly arising, as to answer the telephone, the blood in our bodies tends to run down hill like water in a pan. This may mean a slight reduction of blood for the brain, resulting in temporary dizziness. It usually clears up as soon as the body's reflex mechanisms equalizes the blood pressure throughout the body.
Many of us have experienced small episodes of dizziness at some time, but severe episodes, especially after fifty, suggest the possibilities of disease in the blood vessels, blood or brain and difficulties with diabetes or thyroid disease. This difficulty should prompt us to seek out our physician for his examination, diagnosis and treatment, if necessary.

Headache caused by brain tumors are extremely rare. More than one-half of all people with medical complaint have headaches, but an extremely small number of them have brain tumor. It is also true, however, that nearly all people with brain tumors, brain abscesses, cysts or brain blood clots will have headaches of varying degree.
The pain of an expanding growth within the skull is due to an increase of pressure which stretches and distorts blood vessels in the brain covering. As previously seen, these are the only structures within the head capable of feeling pain. Brain tumor headache has no distinguishing mark about it.
It appears at no regular time of the day. It might be of a throbbing nature or a steady ache, and it may be of a come and go nature. There are often accompanying changes in the personality such as irritability and forgetfulness, and periods of hallucinations, or sudden vomiting, are frequent. Headaches due to brain tumors are endured for long periods of time before their cause is even suspected and often these symptoms help in making the diagnosis of the underlying cause.
Although nearly all brain tumors are accompanied by headaches of some degree, it is well to know that over half of all brain tumors are not cancerous, and that the surgical cure of such tumors is not nearly so formidable as is generally thought.

Eye headaches
Contrary to popular belief, improperly focusing eyes, in need of glasses for correct refraction, do not often cause headaches. It is true that headaches may result from some eye diseases, but the widespread belief that many recurring headaches are preveritable with glasses, is incorrect. In the absence of obvious eye disease, such as redness, soreness, infection or injury, only a few eye diseases such as glaucoma remain to cause headaches. However, because of these rare possibilities, a person with unexplained headaches should always have the benefit of an eye examination to settle any doubt.
Glaucoma headache
Glaucoma headache, beginning about the eyes and spreading into a general headache, is very serious and can be very painful. Glaucoma eye pain is caused by an increase in pressure in the eyeball itself and is serious, not because of pain, but because blindness may follow unless the condition is corrected. Glaucoma, rarely found under the age of thirty-five, increases greatly after the age of forty-five. It appears to be an inherited disease and occurs in families with several members possibly having this same trouble. The inherited factors, however, may be contained in our emotional make-up, because people who develop glaucoma also have easily excitable emotions, often a family trait.
As in so many other headaches, glaucoma and its head pain, often results from a disagreeable mental experience, such as frustration, fear, resentment, etc. In this headache, the pain is excruciating and the eye itself feels hard to the touch. Chronic or long-standing glaucoma presents a similar picture but the pain is not so severe. A dull aching is present over the eyes, and in susceptible people this leads to headache of variable degree.
Sinus headache
Sinus inflammation is often thought to be the cause of frequent recurring headaches, but this is only rarely correct. Less than one headache out of twenty can be traced to sinus difficulties.
Sinus headaches usually begin with a fast developing infection in one or more sinuses, such as might follow a sudden severe cold. They are usually accompanied by a clogged nose, and a localized soreness over the sinus involved. The pain of sinus difficulty grows suddenly much worse when the surrounding air pressure is lessened or increased greatly. Thus rapid ascent or descent in airplanes or tall building elevators, may bring about excruciating pain.
Application of heat to the face, and aspirin have long been the relief of sinus sufferers but correction of certain nose difficulties by a physician often ends the sinus difficulty permanently.

Diabetes headache
Headache in diabetes is due to brain artery dilation when sugar content in the blood gets too low. This occurs after either too much insulin has been given to the diabetic patient, or not enough sugar-type food has been eaten to balance the insulin. This headache, appearing in diabetic people, quickly disappears after eating sugary foods.
Arteriosclerosis (hardening of the artery) headache
Headaches, which begin and are prevalent after sixty years, are most often due to arteriosclerosis damage of the brain blood vessels. This headache is not predictable in location, duration, or time of occurrence, but frequently appears if the head and neck are turned and twisted in certain ways. This is because twisting of the neck also twists blood vessels to the brain, which have already been narrowed by hardening of the arteries. A short rest relief from excitement or exceptional tension most often quickly produces relief from arteriosclerotic headaches.
Tension headaches
Tension headache comprises about one-third of all headaches. In this type of headache, pain does not come from inside the head, but is due to the steady contracture of muscles in the neck and scalp around the head.
Pain from these unrelaxed muscles, as in pain from blood vessels, has its beginning in mental activity of an unwelcome source. Fear, anxiety or tension, results in continual contracture of muscles, as occurs in a sprinter waiting for the starting gun that never goes off. The continual contraction becomes painful in the neck, over the head and into the forehead region. Even the scalp itself may become sore to touch.

Fig. 4. Tension headache is caused by tight, tense, stretching of the scalp across the skull, due to over-tensing of scalp muscles located principally in the neck region and forehead. This is a headache in which aspirin is most effective.
Tension headache differs from migraine headache in several ways. It is not severe, does not throb, and creates a soreness of the scalp, neck and forehead. It is not a sick headache but may last for longer periods of time, perhaps even months. Occasionally, it follows a blow on the head or neck.